Welcome to My Magickal Den!!

Hi, I'm Melissa, 13 years old and just starting High School in September. I live in Vancouver, BC, Canada. I live with my Mom, Dad, and 1 sister and 2 brothers. My brother Robert is younger than me by 2 years. Lyssi is younger than me by 5 years - she's 8. Michael, the "baby", is only 7. My Mom works at home doing day care for other kids and she is also a hairdresser. My Dad is a really good mechanic and drives all kinds of trucks, from pick-ups to semi's. My Great-Grandma lives in our basement suite. My Dad's cat, "Kitty", lives with her so she will never be too lonely. Grandma (my Mom's mother) lives pretty close to us in a 32' very old motorhome. She sews and sells seeds and her sewing stuff and also does web pages. She also writes books and teaches us kids all kinds of crafts and cooking.
There are lots of things I really like to do and I'll tell you about some of them here. I also have some really good friends - Danielle, Terri and Veronica - plus a bunch of others that are sort of friend, but I don't consider them my "really good" friends.
Some of the things I like to do are: bike riding with my Dad, in-line skating, swimming, almost all sports, going to the movies, shopping, and working on all kinds of crafts. My Grandma just taught me to sew and I really like it. I also want to learn to do some woodworking and other kinds of crafts. I also like to read, especially Stephen King books.
This summer we stayed with Grandma fairly often and have been doing some wild-crafting of herbs and other kinds of plants. We picked blackberries for Mom to make a pie. We went down to a small beach on the river and played around down there. It's not really a sandy beach but more silt. It was fun even without the sand.
I love all kinds of animals, dogs, cats, cows, horses, pigs, snakes, and even sloths. I would really like to be a veterinarian when I get out of school. My Great-Grandpa was a veterinarian and I would like to be just like him. But, maybe I would work with small animals more than he did. He lived and worked in a farming community and most of what he did was with large farm animals - like pigs and cows and horses.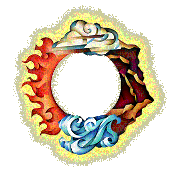 Now let me tell you about my friends.
Danielle is really tall. She has a dog named Rascal, a guinea pig named Cucumber and a brother named Cody. You notice how the dog and the guinea pig come before her brother. Shows you which ones she likes best. She likes scary movies, shopping, swimming and just hanging out. Danielle and I became friends in kindergarten and have been friends ever since. She's a little bit crazy and we always have a lot of fun together.
Terri and I have been friends since Grade 3. She has a brother named Steven and a cat called Snowball. She probably likes her cat better than her brother. She likes to swim, go to movies, going shopping, in-line skating, and just hanging out.
Veronica and I got to know each other in Grade 6. She has a pet bird but I don't know what she calls it. She likes all kinds of sports, movies, shopping, and just hanging out.

I don't have my own computer. My Grandma gave my Mom her old computer, but we aren't even connected to the net at home. So, I come to my Grandma's to surf the web, and write e-mail, and she helped me do this page. It is on her website, too. If you want to write to me, you can send it to my Grandma's e-mail at MELISSA.